Emergency Room in Greenville
Fast and Affordable Emergency Care in Greenville, TX
Pre-Register Below
Pre-Register for Greenville, TX Location Here
At Quality Care ER, we believe in accessible emergency services with minimal wait time and state-of-the-art technology. Our physicians are expertly trained and passionate about your health. We are open 24/7 and speak both English and Spanish to better serve our community. Our patients' comfort is our goal, and we address any questions or concerns they may have. We are here to support them to ensure they get a proper diagnosis, as well as the treatment and/or procedure appropriate for their needs.
Call us today at (903) 307-0544 or visit our in Greenville location if you need emergency treatment.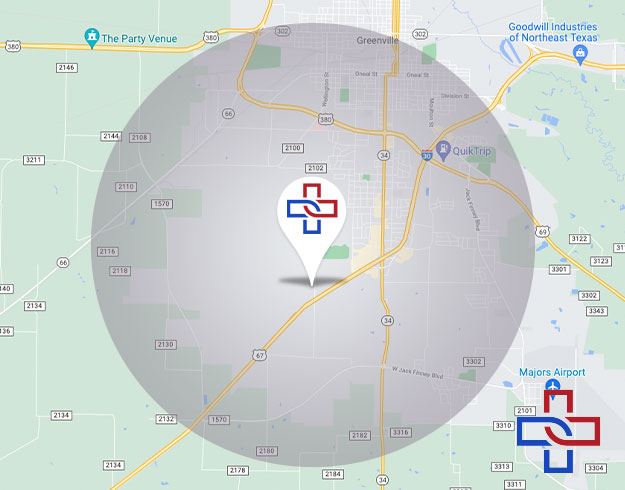 Compassionate Medical Experts
Ensuring our patients' well-being as we help them through medical emergencies is our priority. Our board-certified physicians never rush through procedures or ignore a patient's concern. We will take care of your situation and customize the necessary treatment plan for your situation. Our local medical centers ensure emergency care is easier to reach for members of our community.
We offer a wide variety of services, which includes on-site laboratory testing (including COVID-19) and medical imagery (CT scans, x-rays, and ultrasounds) to help our team evaluate you accurately and quickly to properly diagnose your condition.
We can assist you with major medical emergencies, which include:
Difficulty breathing or shortness of breath
Chest pain
Trauma or head injuries
Persistent bleeding
Heart attack
If you are unsure how serious your emergency is, we recommend that you visit our medical center. Our team will thoroughly evaluate you and figure out the proper treatment. Even a minor emergency needs a timely medical response because it helps decrease the risk of future complications.
We treat many minor medical emergencies, such as:
Mild fever
Body aches
Sprains or strains
Minor wounds
Skin rashes
Urinary tract infections
Our physicians are trained to handle many situations, including fractures, and we can refer you to an outside orthopedic doctor if necessary. We are open every day, including holidays, to keep emergency care accessible to our patients.
Call us today at (903) 307-0544 or contact us onlinefor more information about our medical services!