Expert Emergency Care Physicians in Paris, TX
Pre-Register Below
Pre-Register for Paris, TX Location Here
The emergency rooms at our medical center in Paris, TX, are equipped with state-of-the-art technology to help our physicians provide you with timely and expert medical care. Our team is highly motivated and expertly trained to handle your emergencies. Our services include on-site testing, medical imagery, and treatment options for many conditions. Your wellbeing is our goal, and we will evaluate your symptoms to tailor a treatment to your specific needs. We make sure that we answer questions and address your concerns because we want you to be comfortable and feel involved when it comes to your health. We make emergency care accessible by being open 24/7 every day, including holidays.
Call us today at (903) 417-0886 to learn more about our services, or visit our Paris emergency room if you need treatment.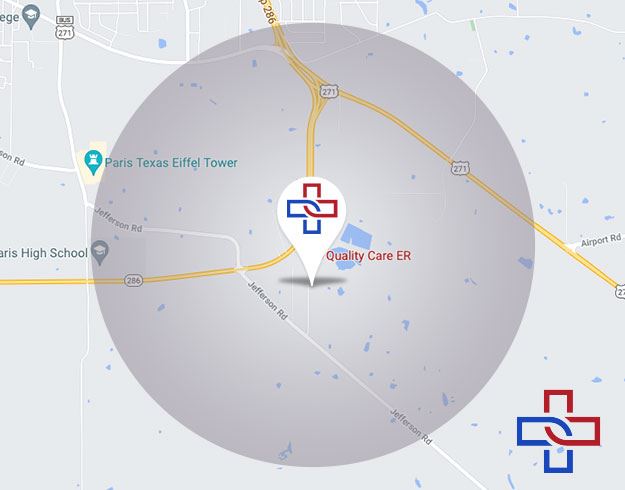 Patient-Centered Emergency Solutions
Our board-certified physicians at Quality Care ER understand how important timely care is but they won't rush you. We want the best for our patients and will spend adequate time to meet your needs. Your convenience and your recovery are our priorities. Our team provides attentive and compassionate support during your time with us. We monitor our patients at every step of the process to ensure their safety.
Our medical care professionals focus on:
Major emergency services: chest pain, overdose, seizures, appendicitis, and more.
Minor emergency services: allergic reactions, eye irritations, joint injuries, nausea, and more.
In-house testing and observation: CT scans, x-rays, ultrasounds, and laboratory testing.
In case of doubt about the severity of your situation, coming to our medical center is vital for your recovery. Even a minor emergency requires immediate treatment to minimize the risk of complications, so let us help you with your emergency medical needs.
We work hard to create a welcoming atmosphere and offer you high-quality emergency care. We are passionate about helping our community and believe in the importance of accessible medical assistance. Our waiting times are minimal, and our services are available in both English and Spanish.
Gives us a call at (903) 417-0886 or contact us online to learn more about how our physicians can help you!